Site Spotlight

US,ST,NC


North Carolina - Statewide Technical Architecture EAS (Meta)

Based on

Larry DeBoever's - EAS (Enterprise Architecture Strategies) from Meta Group This site defines the state of North Carolina's architecture. It serves as a blueprint for the design and deployment of the full spectrum of information systems owned by the State, and for the computing, communications, and management infrastructure required to support these systems. The Statewide Technical Architecture allows individual departments to respond to specific business needs using common components, thus ensuring that information systems will be shared and managed on a statewide basis.

The Architecture provides a single, common, and cohesive vision that directs the design, construction, purchase, deployment, and management of information systems (I/S) and information technology (I/T) across state government.
This is a complete architecture for a large enterprise, probably one of the best (and earliest) on the web. The Architecture addresses a federated large legacy based enterprise in 12 domains,

Application Arch., Network Arch., Data Arch., Componentware Arch., Application Communication Middleware Arch., Groupware Arch., Information Arch., Platform Arch., Integration Arch., Systems Management Arch., Security & Directory Services Arch., Accessibility Arch..

The North Carolina Architecture is an example of Meta's EAS (see below), and is used as examples in the DCI and Meta Group classes and seminars. The Chief Architect spends a lot of time on the road explaining the development of this architecture. It is probably one of the most copied architectures in the world.

Meta Group

Enterprise Architecture Strategies provides an invaluable, ongoing resource that enables organizations to create an adaptive architecture that "engineers out" everything that inhibits change, while "engineering in" a high tolerance for the unanticipated. Offering a set of architectural best practices to guide IT organizations in the process of designing a flexible technical infrastructure, EAS helps clients assess effectiveness, enhance adaptability, and lower total cost of ownership.

Hammering away in the garage

Strawdogs, Stalking Horses, Straw Man and other animals of a different sort, or

One of the primary tools for consensus architectures.

Definitions:

Stalking Horse

"A mask to conceal some design; a person put forward to mislead; a sham. Fowlers used to conceal themselves behind horses, and went on stalking step by step till they got within shot of the game. "

Strawdog
"Before each DesignShop, the Event Facilitator (Key Facilitator) and/or the Process Facilitator generates a first cut at the design of the event. Sometimes this process is completed formally in a Sponsor Session with the DesignShop Sponsor, the Facilitator and Process Facilitator. These sessions are documented. The Strawdog summarizes the planners' thinking in terms of the purpose of the DesignShop, the desired outcomes and the individual modules that comprise the design. Usually the first half of the shop is outlined in detail; the rest cannot be designed until the shop is underway". Straw Man

"The author attacks an argument which is different from, and usually weaker than, the opposition's best argument."

A little background

When I was first assigned to an architecture team, I spent a massive amount of time on the Internet, trying to understand just what was meant by architecture. This research resulted in the link lists on my site, it was a little cluttered and perhaps contained non-architecture information, but it was (at the time) pretty comprehensive.

There were some real gems of information out there, including process, procedures and real examples (see the site spotlight). One of the gems, was the North Carolina architecture and it pertained to the organization I was working in (Legacy systems transitioning to Internet). Alright, so I downloaded it, and did some MS Word magic on it and delivered a 200 page architecture in a matter of days (so, I'm not proud!). And, as with all 200 page documents, it got copied, and filed (never read or understood). The CIO ignored it for months, finally taking it on a trip from California to Florida to read it. She was seated next to a consultant from a LARGE consulting firm (let's call them Grand Gargoyles consulting) , who after watching her suffer though some part of it, indicated that their firm was able to produce a architecture in 90 days.

Now, we all know that airline air or food cause mental lapses of judgment. So when she returned, we had the assignment of producing a totally unique consensus architecture for her organization in 90 days.

A Premise

It is my premise that nothing gets done in meetings or as a large consensus group! I maintain that ALL major documents written are written by one person, even the Declaration of Independence! Consensus is achieved by modifying that single author document and getting participants to agree. Such a document is a "strawdog" (see definitions). So I needed a way of creating these strawdogs for use in consensus meetings.

A Solution

While the 200 page document described previously did not meet the CIO's requirements, it did meet the need for the strawdogs for the consensus meetings.

The architecture team spent time designing and documenting the domains of the architecture (this along with the results of interviews driving out business requirements, a summary of trends, and best practices represented a conceptual architecture).

We then divided the 200 page document into domains and as a result we had the necessary "strawdogs" for the consensus effort.

Some example strawdogs are available on the

EWITA site at: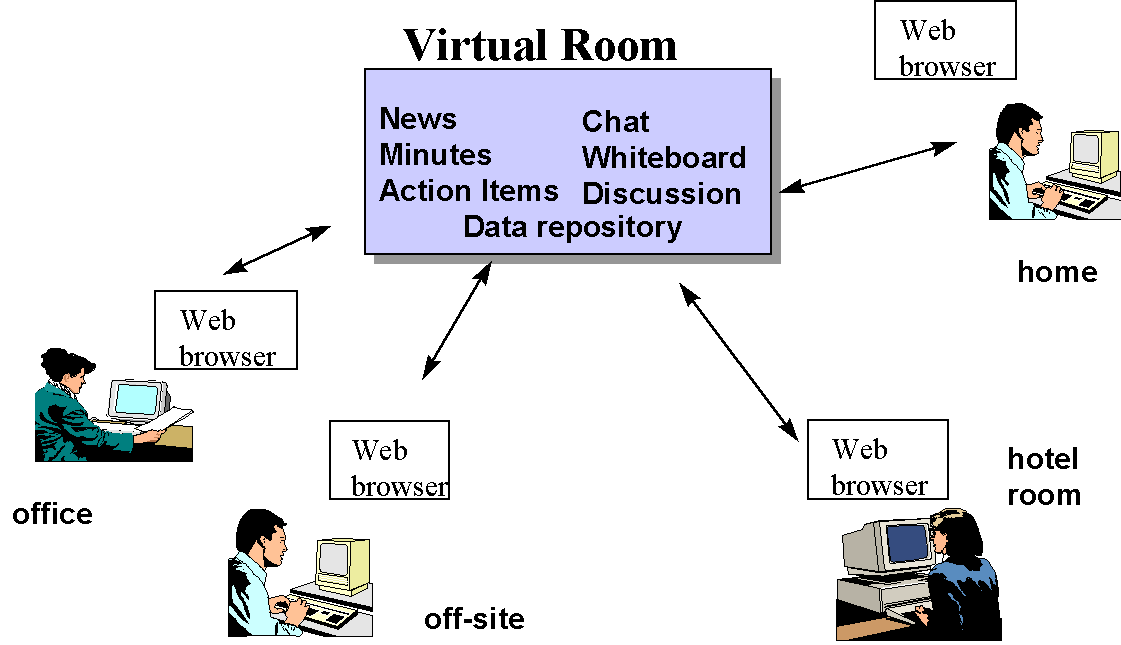 Developing Strawdogs (SD)
Business Case (SD)
Architectural Requirements (SD)
Business Requirements (SD)
Executive Summary (SD)
Principles (SD)
Technical Trends (SD)
Security Domain (SD)
We found that those team members who chose not to use strawdogs ended up in a morass of discussion and re-discussion of what the document should contain. The resolution was to adopt the idea of creating a example document and modify it (yes a strawdog). Those domains that used the concept of strawdogs finished their part of the architecture on or before schedule, and that was a good thing because we had to help in the other domains.
Moral of the story
KISS - Keep it shot and simple, find out what your sponsor's attention span is and use it!
NIH (Not Invented Here) - is a invalid concept.
Re-use - Utilize existing work if possible.
Know a answer- Have a written solution in hand before meeting with the technical staff to drive out consensus.
Be willing to change - Make the fact known, and encourage that the document is to be modified to meet the needs of the group.
Encourage change - Do not exercise pride of authorship, encourage comment, questions and change.
Articles
I have decided to do a series of Enterprise Architecture articles for this (face it) newsletter. The articles will be in almost a conversational tone. They will give in a similar format to the above, definitions, background, assumptions (premise), a solution and the points learned (moral). I will attempt to do one of these a week, keeping it short and light, an easy read of about 750 words. They will not be in chronological or project order. They will be like conversations, may not be grammatically correct, but they work in the case of the architectures I have worked on.
Coming "down line"
| | |
| --- | --- |
| Subject | Title |
| Timely review of documents (What do you mean, you don't have the time?) | Planning for communications |
| Using consultants | The sucking sound of money! |
| Consensus meetings | Participate or die! |
| Publication and dissemination | Will you just read the damn thing! |
| Vendor interface (getting agreement and help) | Where's my product? |
| Accelerated development of IT architecture | Can I have it in 90 days? |
| The process, applying UML | So how does this thing work, and could I do it over again? |
A note about the title: "Hammering away in the garage" - my home office is in the garage, where I do most of the work on this newsletter and the community. The office is equipped with computers, and an extensive hardcopy reference library (boy, do those books get out of date fast).

Zachman Links

One of the major architecture processes is the Zachman Framework. If you are looking at the Zachman Framework process, you might want to explore the Internet resource. Over 500 Zachman links are located in the

Links area of the new EWITA site.

New page for Enterprise-Wide IT architecture (EWITA)

Simplify, simplify, that was the idea for the new

EWITA home page, located at http://www.ewita.com/. While not complete it has started to have content and over the next few weeks the directories and pointers to Enterprise Architecture resources will transition to this site from the old site at http://www.lanset.com/dmcafee/. Of course, your comments are always welcome.

Progress on the new pointer sets

I have made some progress on the development of the new Internet pointer set to EA resources. There are still about 4000 pointers to be classified. The

EWITA EA Presentations page is a result of one of those classifications.

New Orleans - Here we come

I will be presenting a session in New Orleans at the

DCI EA Conference, the title being "Developing an Expedited Enterprise Architecture, or, Can you have it in 90 days?" In case you missed it, EWITA had a contest last month for a guest pass to the conference valued at $1395 dollars.

The winner was Faye Lee the Department Data Resource Manager for the US Department of the Interior, the

US Department of the Interior Information Architecture site was the featured site in a prior newsletter.

At the conference, I will be chairing one of the "Birds of a Feather Tables at Breakfast" on Thursday, October 26th from 8:00-8:45am, the table topic will be "Internet as a development tool for architectures". Plan on joining me and swapping "war stories".