Enterprise Architecture Basics:
Welcome
This site is a comprehensive reference site and community resource for Enterprise-wide Information Technology Architecture (EWITA) or Enterprise Architecture (EA).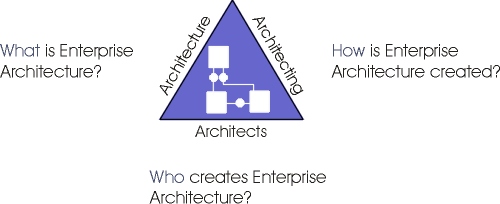 About EWITA
The EWITA site serves those who are working in the Enterprise Architecture space. It is useful to Information or Data Architects, Application or Software Architects, Technology or Infrastructure Architects and Architecture Program Managers, Product Line Architecture Managers, Reuse Program Managers, as well as everyone who needs to think strategically about architecture and business leadership, including CIO's and CTO's.
The EWITA site was founded and created by David McAfee. He assembled a tremendous information resource for Enterprise Architects. Bredemeyer Consulting took over the site on June 1, 2001.
Of interest to Enterprise Architects around the world:

The Center for the Advancement of the Enterprise Architecture Profession has established an Oath and Doctrine for the Enterprise Architecture Profession. Go here to become a signatory to the oath, and here to sign the EA Doctrine.

The Association for Open Group Enterprise Architects AOGEA (and GEAO)


You may be interested in these Enterprise Architecture Executive Reports from Cutter Consortium, written by Ruth Malan and Dana Bredemeyer:

New! "The Art of Change: Fractal and Emergent." You can download a complimentary copy from http://www.cutter.com/offers/artofchange.html. See synopsis

"What it takes to be a great Enterprise Architect." You can download a complimentary copy from http://www.cutter.com/offers/greatarchitect.html

"Enterprise Architecture as Strategic Differentiator." You can download a complimentary copy from http://www.cutter.com/offers/strategic.html

If you are interested in topics like agile architecture, scaling agile, organizing for architecture and innovation, and the Visual Architecting Process see our report titled 'Getting Past "But": Finding Opportunity and Making It Happen.' You can download a complimentary copy from http://www.cutter.com/offers/findopportunity.html

The following classes are of special interest to Enterprise Architects, and the teams of solution architects, domain architects, application architects and managers and business analysts who partner with them.

Open Enrollment Classes from Bredemeyer Consulting

Enterprise Architecture Workshop:
- Chicago, IL, Nov 29-Dec 2, 2011

Software Architecture Workshop:

- Disneyworld, Orlando, FL, Dec 12-15, 2011

- Eindhoven, The Netherlands, November 15-18, 2011

Conferences

DoD EA Conference, April 11-15, 2011

SATURN 2011: May 16-20, 2011, Bay Area, CA

Workshop on Technical Debt in conjunction with ICSE 2011

WICSA 2011, June 20-24, 2011, Boulder, CO

SATURN 2010: May 17-21, 2010, Minneapolis, MN.
- Ruth Malan presented a tutorial titled The Art of Drawing People In exploring the role of visualization in software development given that, well, software is developed by and for humans, introducing all kinds of difficulties that visuals, pictures--sketches, graphic brainstorming templates, models--are well suited to addressing.


Software Architecture Action Guide is a draft of a book by Ruth Malan and Dana Bredemeyer. See http://www.ruthmalan.com.

Ruth Malan's Trace in the Sand Journal -- Current entries or access by topic using the Journal Map


The Philips Gaudi Architecture project site has been significantly updated and has remarkable depth and coverage of their internal architecture training material on the site http://www.gaudisite.nl/.

Gartner has a report on Enterprise Architecture (some of the reports referenced in the first part of this 3-part report can be accessed even if you donít have a subscription to Gartner reports). See http://www4.gartner.com/pages/story.php.id.2225.s.8.jsp.

The EWITA site was transferred from founder and creator, David McAfee to Bredemeyer Consulting on June 1, 2001. Bredemeyer Consulting also sponsors and maintains the popular Resources for Software Architects web site, and we will leverage synergies across the two sites, together with our considerable architecture experience, to continue to make the EWITA site interesting and useful.
Books:
Peter Checkland, John Poulter, Learning for Action: A Short Definitive Account of Soft Systems Methodology, and Its Use Practitioners, Teachers and Students, 2006
Erl, Thomas, SOA: Principles of Service Design, Prentice-Hall, 2007.
Erl, Thomas, Service-Oriented Architecture: Concepts, Technology and Design, Prentice-Hall, 2005

Fowler, Martin, David Rice, Matthew Foemmel, Edward Hieatt, Robert Mee, and Randy Stafford, Patterns of Enterprise Application Architecture, Addison-Wesley, 2002.